Bayard Fizz
Chill the serving glass. Shake all ingredients except the soda with ice cubes. Strain into the chilled glass and top with soda. Garnish with a lemon slice and a few fresh raspberries if you have them.
Bayard Fizz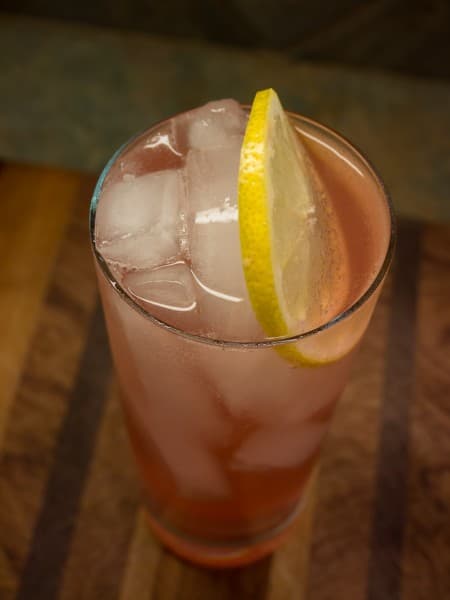 The first reference I find in my bar books to a Bayard Fizz is in The Old Waldorf-Astoria Bar Book from 1935. So this and the raspberry syrup and liqueur in the recipe are clues that this is probably a Prohibition drink. Because of the poor quality base spirits available (unless you were a high roller with your own "Boardwalk Empire"), standard recipes such as the Fizz were adapted with added ingredients to cover up the nasty alcohol.
In the Waldorf-Astoria book this drink is called a Bayard Beauty. The recipe is more gin-forward with the lemon juice quantity listed as a "spoon" and the syrup and Maraschino relegated to a "dash" each. This could provide an interesting slight variation from the standard Gin Fizz.
A version of the Bayard Fizz with more of the secondary ingredients is provided here. This is more in line with the standard Fizz recipe on this site (3/4 oz lemon juice). I wasn't thrilled with the results, though. It might be my raspberry syrup - I used some homemade syrup that has been in the refrigerator for awhile. The result was a drink that wasn't offensive but something was off. I need to try again with a new batch of syrup or just break down and get some Monin raspberry syrup which I have used in the past.
It certainly is a pretty drink.
Rating (Liquor & Drink)
82
Beefeater gin, fresh lemon juice, Luxardo Maraschino, homemade raspberry syrup (that is suspect) and club soda. 7/18/2012
Ingredient Profile
Drinks in the same category
Drinks served in the same glass