Orange Curacao
Orange Curacao (rebottled)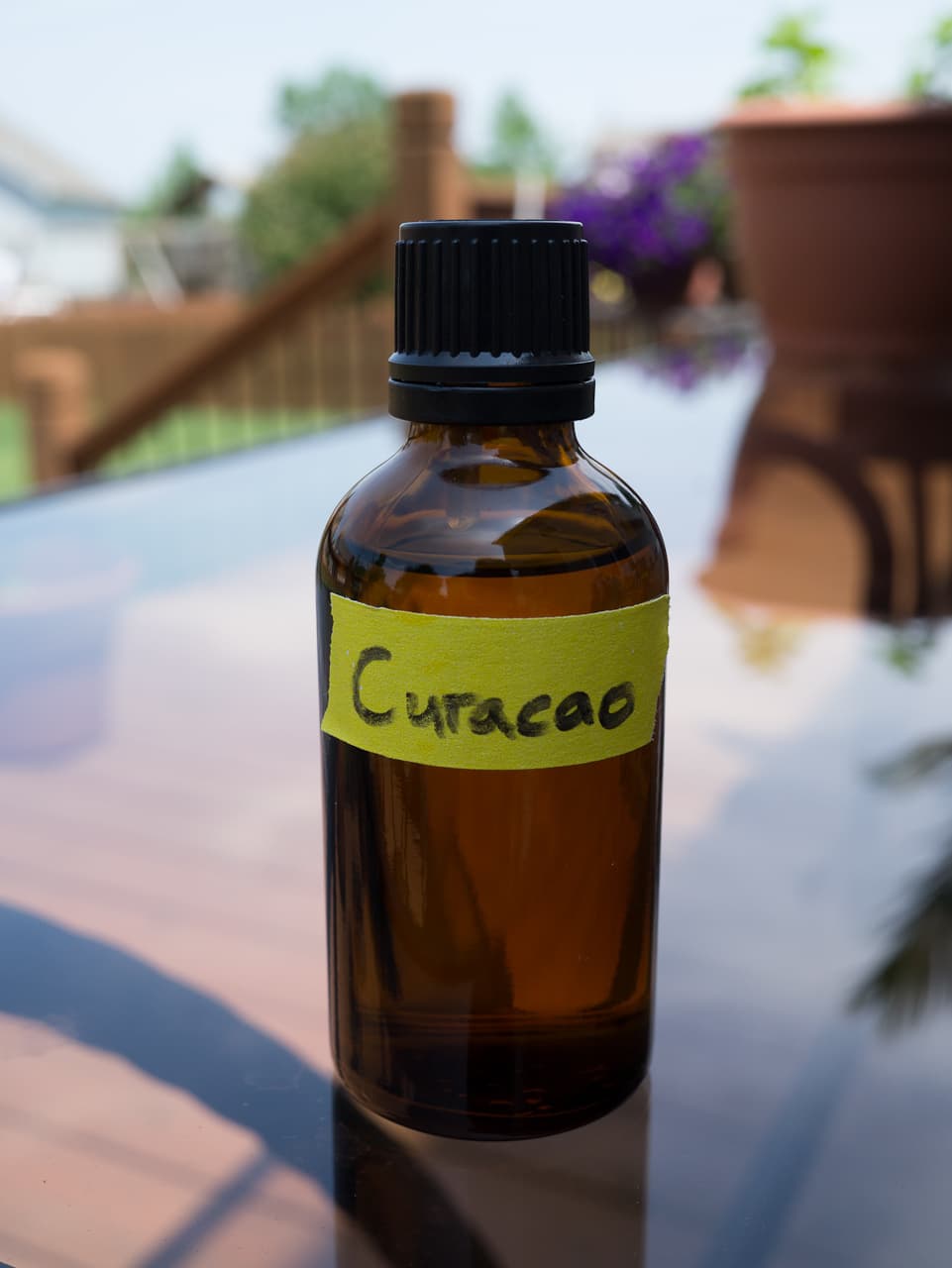 Orange Curacao is an orange flavored liqueur originally produced on the island of Curacao in the Caribbean. When the Spanish first came to the island they brought their Valencia orange trees with them. When they tried planting their trees on Curacao, the harsh soil and climate produced a bitter fruit. The trees were abandoned and left to their own fate.
Over time, the trees evolved into the laraha citrus (Citrus aurantium) now known as the Seville orange. The fruit produced by the trees was still bitter but the peel, especially after being dried, had a pleasant, pungeant aroma. The Senior family on thought to use the peel of this fruit and other ingredients to produce the first Orange Curacao in the 19th Century.
The dried peels were soaked in alcohol to extract their flavor. The peels were then removed and other spices and flavorings were added along with sugar. The result was an orange flavored liqueur with some bitterness but not as much as the sister liqueur Triple Sec. The liqueur is either clear or amber in color depending on which base spirit is used.
It is likely that brandy or related grape based spirits were used as the base for Orange Curacao. As the popularity of Orange Curacao grew, many low quality products came on the market purporting to also be Orange Curacao. You can still see them on your liquor store shelves. This profusion of knock offs marred the Curacao brand. That sickly sweet crap on the bottom shelf used to have a great pedigree. In fact, one producer called Curacao Marnier found the brand so tarnished that they rebranded their product as Grand Marnier.
Today it is difficult to find a quality Orange Curacao. Though Triple Sec has gone farther into cheap nasty territory, Orange Curacao is also a hollow shell of itself. Bols makes a serviceable product but I prefer to use Grand Marnier or Gran Gala.
There is a blue colored version called Blue Curacao. In my experience it is always a low quality, extremely sweet product that tastes the same as it's cousin. I no longer stock it in my bar.
Have you found a decent example of this liqueur? Or are you looking for one? Comment below and let's share what we know.
Drinks that use Orange Curacao
Ingredients in the same category
Ingredients with similar flavors
Related Liquors/Mixers