Bourbon Crusta
Rim a small cocktail or sherry glass with sugar and set in the freezer to chill. Stir all ingredients with ice cubes. Strain into the chilled glass. Peel half a lemon in a continuous spiral over the glass. Express a little oil onto the drink, then set this peel into the drink so it uncoils around the sugared rim.
Bourbon Crusta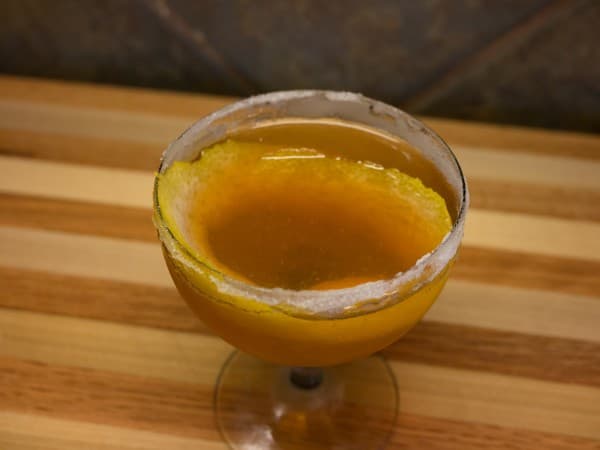 When you think Crusta, Brandy is king. In The Bartender's Guide, Jerry Thomas lists the Brandy Crusta first and it is the only Crusta recipe spelled out. The whiskey version just has a note:
The whiskey crusta is made the same as the brandy crusta, using whiskey instead of brandy.
The short shrift in Thomas's book is probably because everyone at the time in New Orleans (where the drink was invented) was probably drinking Crustas with brandy. But I have found bourbon works well in this drink, especially a higher proof, full-bodied variety such as Knob Creek or Maker's Mark using an amount of lemon juice at the small end of the scale (as David Wondrich prescribes). With Knob Creek, give the Bourbon Crusta a generous stir to get adequate dilution.
I am in the minimal lemon juice school no matter what base spirit the Crusta is made from. If you have a half ounce of lemon juice you are in Fix or Sour territory - what's the point?
I wouldn't recommend a Crusta as a hot weather drink unless you're going to down it with dispatch (I guess you're supposed to drink cocktails and their ilk that way all the time but sometimes I like to linger over a Crusta). While I was making Bourbon Crustas in coming up with this recipe the temperature outside was 102 F, inside about 80 degrees F. Since it is such a small drink with no ice, the Crusta warmed quickly.
This Crusta is listed as a Whiskey Crusta in Jerry Thomas's book (and some others I have). So he probably made them at the time with rye. Also, many modern recipes I have found from sources I trust specify using both Curacao and Maraschino as sweeteners (Maraschino became an optional liqueur to use as the Crusta evolved - but both?). These recipes are usually in the larger amount of lemon juice camp. Let's try rye using both liqueurs as sweeteners but on the minimal lemon juice plan as above.
Whiskey Crusta with rye
2 oz rye
1 tsp lemon juice
3/4 tsp Orange Curacao
3/4 tsp Maraschino
2 dashes Boker's Bitters
I thought the gum wasn't necessary with two liqueurs present.
This version is pretty good but it seems conflicted between the dry orange and dry cherry flavors of the two liqueurs. In my humble opinion, I would prefer to pick a liqueur, buttress with a half teaspoon of gum, and then "smile".
Rating (Liquor & Drink)
91
Knob Creek bourbon, Gran Gala for the Curacao, homemade gum syrup, lemon juice and homemade Boker's bitters. 7/8/2012
84
Rittenhouse Bonded rye, Gran Gala, Luxardo Maraschino, homemade gum syrup, lemon juice and homemade Boker's bitters. 7/8/2012
Ingredient Profile
Drinks in the same category
Drinks served in the same glass