Manhattan
2 oz

Rye Whiskey

1 oz

Sweet Vermouth

2 dashes

Orange Bitters
Stir with ice and strain into a chilled cocktail glass. Garnish with a lemon twist or a maraschino cherry if you prefer.
Manhattan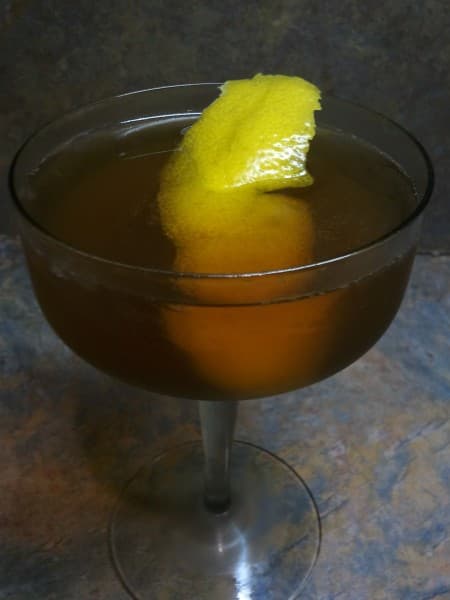 This Manhattan recipe may not look like what you're used to. As has happened with the Martini, the vermouth in a Manhattan has been slowly whittled away to what I usually see in chain restaurant bars - about 5 or 6 to 1 whiskey to vermouth. I made them the same way for a long time until I discovered good vermouth.
I also discovered that the original ratios used were more like 1:1 or 2:1. I am now an adherent to the 2:1 school if quality vermouth is available (let that always be the case). Dolin, Punt-e-Mes or Carpano Antica Formula all do wonderfully.
I used to shake my Manhattan's and in virtually every bar I walk into they are shaken if you don't specify a stir. Sometimes they are shaken into watery oblivion as if it's a pissing contest between bartenders to see how bloodless, cold and voluminous they can make the drink. I have learned to specify a stir. If I get static I just get a beer.
Bourbon or rye can be used in a Manhattan. Rye was more popular when the drink was born and bourbon is more popular now. I will say a 100 proof variety of either improves this drink especially if you are using a big vermouth (Punt-e-mes or Antica Formula).
Orange bitters were in the original Manhattan recipes according to Imbibe!: From Absinthe Cocktail to Whiskey Smash. I encourage you to read this book for a fascinating history of the Manhattan with three recipes that show how it first started and how it evolved over time. A fantastic variation I have found is Bitter Truth Old Time Aromatic Bitters instead or orange bitters. This is more in line with modern recipes that call for Angostura bitters. The Bitter Truth bitters really make a startling good drink. Peychaud's is another interesting choice.
We also learn that the lemon twist is the old school garnish. Today it is the ubiquitous maraschino cherry. I have no problem garnishing with cherries but do try to find some good ones or make them yourself. The neon red variety do not belong in this drink.
Most everyone has an opinion on this venerable cocktail. Please do share your tips and tricks in the comments.
Rating (Liquor & Drink)
98
Rittenhouse 100 proof Bonded rye, Carpano Antica Formula vermouth and Bitter Truth Old Time Aromatic Bitters. Lemon twist expressed onto the drink, then "flagged" with a few homemade maraschino cherries. 4/8/2012
Ingredient Profile
Drinks in the same category
Drinks served in the same glass
Related Blog Articles
Related Liquors/Mixers