Taking It With You - Part 2
A portable bar to take on vacation
1/19/2008 12:00 AM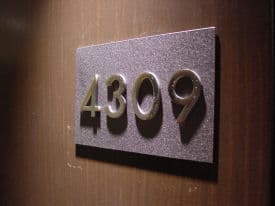 That's not room 4309, that's Club 4309.
Sometimes you don't care about keeping drinks cold. You just want to bring some booze on your trip to New Orleans. If you're staying in a hotel, you'll have access to ice. So if you bring everything else, you can setup a little bar in your hotel room as soon as you arrive. This is far preferable to ordering a bottle for your room--this can be extraordinarily expensive.
Here is how you do it.
I dig Siggs
Go get yourself some Sigg Traveler bottles. I use two 0.6 L size bottles. They are also available in 0.3 and 1 L sizes.
Sigg bottles are lightweight aluminum beverage bottles from Switzerland. They have a non-toxic inner lining that will not leach flavors from the bottle's contents nor will the aluminum add any metal flavor. I was skeptical about this at first, but it turns out to be true. I have stored Knob Creek Bourbon (100 proof) for months and margaritas (with real, acidic lime juice) for weeks with no ill effects. Some hot, soapy water and the Sigg is as good as new.
Sigg Traveler Bottle 0.6 Liter

This is the mid-size Sigg bottle. It works for most applications. It fits perfectly in most toiletry bags that have been converted to carrying a portable bar.
How to assemble the portable bar
I put two Sigg bottles in a toiletry bag. Depending on what kind of drinks I'm going to make, I may include a small, flexible cutting board, a plastic knife, Angostura bitters, sugar, a small container of maraschino cherries, and/or a lime or two.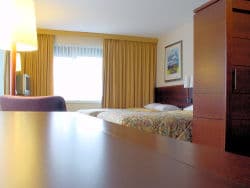 Guess what you put on that desk?
The bar, of course.
If you need a portable muddler, cut a 5/8 inch wooden dowel to size. You can paint it with a few coats of mineral oil to seal it if you wish.
Make these drinks on vacation
Manhattans - 0.6 L Sigg of rye whiskey, 0.3 L Sigg of sweet vermouth, small vial of bitters, small container of maraschino cherries. Stir the ingredients over ice (or bring a small shaker). Strain or drink on the rocks. I find I'm always bringing the Manhattan kit when I go to big, eastern cities (the drink just fits).
Old Fashioned - 0.6 L Sigg of bourbon, small vial of bitters, small container of maraschino cherries, plastic knife, cutting board, a small orange, and a small container of sugar (or some sugar packets or cubes), small muddler. Great for Chicago.
Caipirinha - 0.6 L Sigg of cachaca, 3 or 4 limes, small container of turbinado sugar, small muddler, cutting board, plastic knife. This will start a party almost anywhere.
Margaritas - 0.6 L Sigg Tequila, 0.3 L Sigg Cointreau, 3 or 4 of limes, small container of bar sugar, small container of salt (optional).
If you forget or run out of limes, the hotel bar will usually give you some whole ones. Just make sure to tip them.
Vials and small containers for sugar, salt, cherries, etc. can be found at Sunburst Bottle Company. This is a great site as they don't have minimum order sizes. You can get your vials and bottles in ones and twos.
This portable bar is great when you just want to relax in your room when you first arrive. No dealing with (or trying to find) liquor stores, or grocery stores (for fruit, sugar, etc). You know that the minute you arrive you can enjoy a cocktail of your choice unencumbered by the vagaries of your destination city.
Last updated 2/10/2008 9:22 AM