Aviation Cocktail
Chill cocktail glass. Shake all ingredients with ice cubes. Strain into cocktail glass. Garnish with a lemon twist or maraschino cherry.
| | |
| --- | --- |
| Prep Time | 1 minute |
| Servings | 1 |
| Category | Cocktail |
| Tags | Aperitif, Classic |
| Proof | 61.1 |
| Strength | 1.7 standard drinks |
| Glass | Cocktail Glass |
| Temp | Cold |
Aviation Cocktail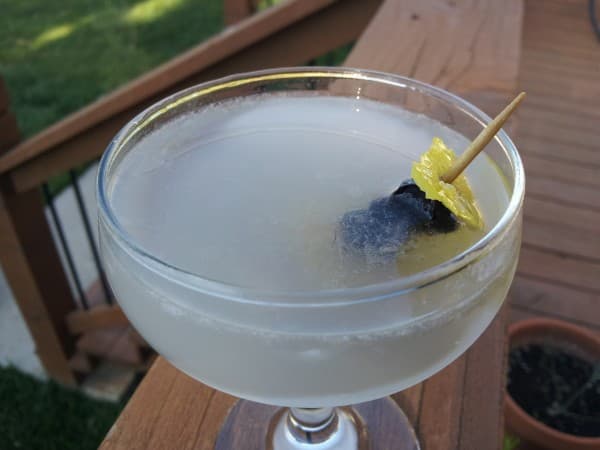 The above proportions are for Luxardo maraschino and Rothman & Winter creme de violet. If you are using Maraska maraschino, you have a sweeter liqueur than Luxardo, so back off a bit. A lot of recipes just use equal parts lemon juice and maraschino but I find the proportions above (including the violet) make a balanced though lively cocktail.
Creme de violet was used back when this drink was first invented. This ingredient was dropped eventually. You can prepare the drink either way. Including the creme de violet yields a soft, sky blue color and more floral aroma and flavor, and I prefer it this way. If you don't use creme de violet, increase the maraschino to compensate. You can also use Creme Yvette in place of the violet.
Watch the amount of creme de violet - I am using about half of what a lot of recipes specify because too much makes this cocktail taste like flowery soap. Balance is what makes or breaks this drink. You have two sweeteners and one acid so get the ratio correct for your palate and you'll be in heaven (or La Belle Epoque...).
Gary Regan, author of The Joy of Mixology, says that Hugo Ensslin first mentions this drink in his book, "Recipes for Mixed Drinks". This was circa 1916 when aviation was still new and wild. Hugo was a bartender at the Hotel Wallick in New York City. During the 1930's, the Aviation Cocktail grew in popularity as aviation blossomed during its golden age. After many years of neglect, the cocktail has had a startling resurgence and was in the vanguard of rediscovered classic cocktails. Let's keep that going - grab your shaker and give it a try.
Rating (Liquor & Drink)
95
Ingredient Profile
Drinks in the same category
Drinks served in the same glass