Blood and Sand
Chill a cocktail glass. Shake all ingredients with ice cubes. Strain into the chilled glass and garnish with a lemon twist or a maraschino cherry.
Blood and Sand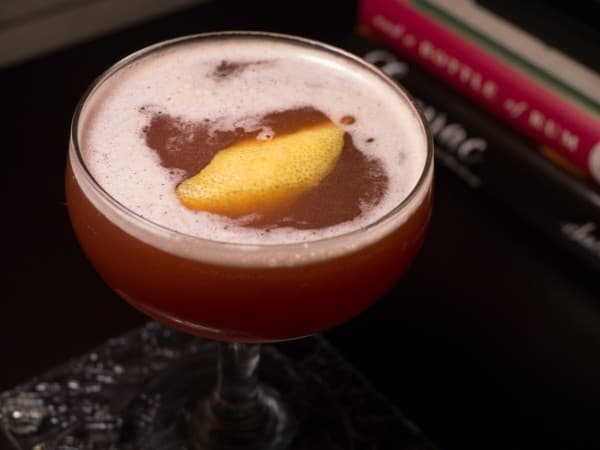 I first tried a Blood and Sand at the Tiki-Ti in Hollywood, CA. The Tiki-Ti is one of the last original Tiki bars and they serve a rocks version of the Blood and Sand with your choice of base spirit: Scotch, bourbon or Tequila. If you choose Tequila they pour a 30 second Tequila float (albeit with a restricted pourer on the bottle) on the drink while the whole bar chants "Toro! Toro!". It's a seriously strong drink.
The original Blood and Sand was a cocktail served in an up glass and in most cases still is. In maybe one of the first example at cross-promotion the drink appeared alongside the Rudolph Valentino movie of the same name in 1922. The orange juice used at the time was from blood oranges which gave the drink a dark red color. Even with normal orange juice the drink made with the ingredients in this recipe is still quite dark.
The Blood and Sand first appeared in The Savoy Cocktail Book in 1930. The Savoy's recipe is equal parts of all four ingredients. A more modern recipe in Vintage Spirits and Forgotten Cocktails specifies one ounce each of Scotch and orange juice and 3/4 ounce each of cherry brandy and vermouth. I have tweaked the recipe to my own taste by slightly increasing the amount of Scotch and adding some orange bitters. I find this recipe to be both fruity and strong and complex in the spirit of a true old cocktail.
Scotch is not a common cocktail ingredient so you might be wondering which kind to use. You should probably use the type of Scotch that you prefer in a Scotch and water. I have found both the big peaty Scotches and the lighter ones to both work in this drink. It's just a matter of what you prefer. The additional ingredients will cover up some of the Scotch character but enough will shine through to be quite noticeable.
Cherry Heering is a must in this drink. There is no other cherry brandy quite like Heering which is aged in wooden barrels. For the vermouth Punt-e-Mes is a fine choice which adds a layer of bitterness that adds punch to this drink.
The commonly prescribed garnish for a Blood and Sand is a cocktail cherry. I prefer a lemon twist which tames some of the sweetness inherent in this drink (from the brandy, vermouth and orange juice). I have also seen a flamed orange twist called for - that could be interesting.
Rating (Liquor & Drink)
89
Balvenie 14 Year Rum Cask Scotch, Cherry Heering, Punt-e-mes, orange juice and Regan's orange bitters. 7/23/2012
Ingredient Profile
Drinks in the same category
Drinks served in the same glass