Kir Royale
Build in the order given in a Champagne flute. Garnish with a long, thin lemon twist.
Kir Royale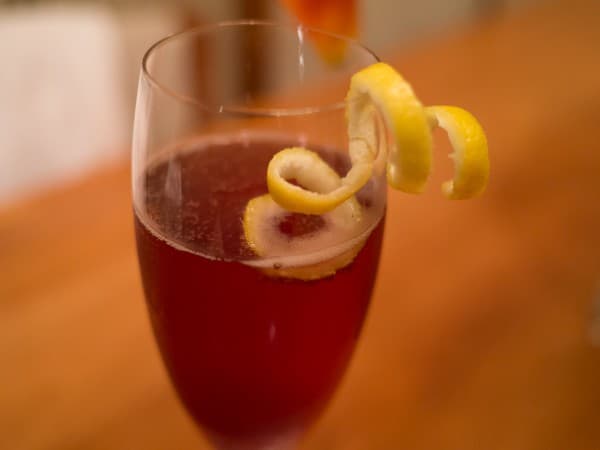 The Kir Royale was popularized by and named after Felix Kir who was the mayor of Dijon, France from 1945 until his death in 1968. Kir had a fondness for a local drink called a blanc-cassis which was still white Burdundy wine and Creme de Cassis. He served this drink constantly at official city functions - so much so that his name was adopted for the drink, a Kir.
Of course, the French being who they are, a variation came about using Champagne instead of still white wine and this is called a Kir Royale.
Use a good sparkling wine or non-vintage Champagne for this drink. It is mostly wine and though the Creme de Cassis pulls more than it's weight in the drink's flavor profile, a blasé wine will cripple a Kir Royale.
Now, to the Creme de Cassis. You want a French one which used to be very difficult to find. Things are better in this department lately - if I can find two different brands in Kansas you should find be able to find at least one. A half ounce is all you need as Creme de Cassis has a quite concentrated flavor.
Finally, a long, thin lemon twist finishes off a Kir Royale and provides a nice citrus oil aroma and a graceful look as it corkscrews lazily on the flute.
If you have a Champagne/Creme de Cassis combination that works well let us know in the comments.
Rating (Liquor & Drink)
89
Piper-Heidsieck Brut Champagne and Creme de Cassis de Dijon l'Héritier Guyot. 8/4/2011
Ingredient Profile
Drinks in the same category
Drinks served in the same glass