Rum Sour
Shake everything with ice and strain into an ice-filled rocks glass. Rub a lemon peel on the rim of the glass and throw it in.
| | |
| --- | --- |
| Prep Time | 1 minute |
| Servings | 1 |
| Category | Sour |
| Tags | 1840-1880 (Cocktails Arrive) |
| Proof | 46.1 |
| Strength | 1.3 standard drinks |
| Glass | Old Fashioned or Rocks Glass |
| Temp | Cold |
Rum Sour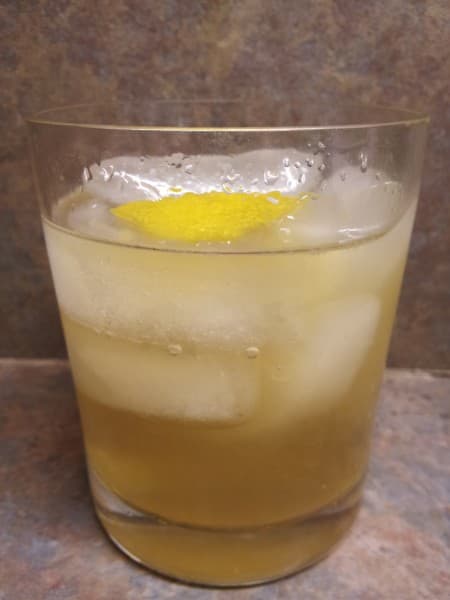 The recipe above is for a mid-19th Century version of a Rum Sour. At the time, Jerry Thomas called it a Santa Cruz Sour because of the type of rum it was made from. This is a Rum Fix with more citrus and sweetener.
Later in the 19th Century the Rum Sour started getting fancied up with additions of Orange Curacao, charged water and more fruit in the garnish. It also was shaken with syrup as a sweetener instead of sugar.
I tend to like the original form of this drink which is a good vessel to show off a rum. The drink is stirred instead of shaken so it remains still without the aeration and increased dilution. The rum you choose has a stable foundation to express itself being the only spirit in the drink.
I recommend a hearty, aged rum instead of a white one. If you're going to build a structure around the rum that allows it to show off then it adds up that you should use a showy rum. Don't go overboard though since you will be covering up some of the rum's more delicate flavors and aromas (save the 25 year old Demerara for the snifter).
Rating (Liquor & Drink)
91
Santa Teresa Anejo rum, water, lemon juice and superfine sugar. 7/7/2012
Ingredient Profile
Drinks in the same category
Drinks served in the same glass