Orange Buck
Shake the gin, orange juice and lime juice with ice cubes. Strain onto new ice in a highball glass. Top with ginger ale and garnish with a spent lime shell.
Orange Buck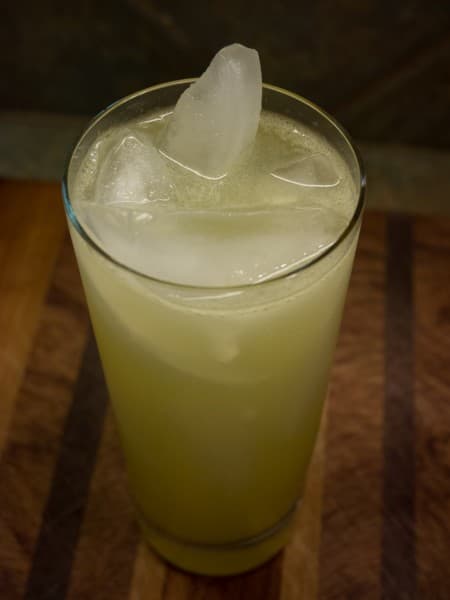 I am not sure when the Orange Buck came into existence. The Gin Buck on which it is based dates back to the mid 19th Century. But orange juice in drinks is a newer phenomenon so I am guessing that the Orange Buck made it's appearance around the same time as another Buck built with OJ, the New Orleans Buck. This would be around the time of Prohibition when OJ and other juices were used to hide the crappy base spirits available then.
The orange juice provides a supporting role - there isn't enough to really make this drink taste "orange" like a Gin and Juice would. Overall it is a refreshing hot weather drink - I can think of less suitable drinks to add orange juice to...
Dry gin is prescribed in the recipe but this one might be interesting with Holland gin - the juices might play interestingly with the malty nature of the genever. I have had great results with Irish whickey (with it's similar malty characteristics) in punches with orange and lime. Next go around I shall try this.
Rating (Liquor & Drink)
88
Beefeater gin, Simply Orange oj, lime juice and homemade ginger beer. 7/17/2012
Ingredient Profile
Drinks in the same category
Drinks served in the same glass