New Orleans Buck
Shake rum, juices and bitters with ice cubes. Strain into an iced highball glass. Top with ginger beer and garnish with a spent lime shell.
New Orleans Buck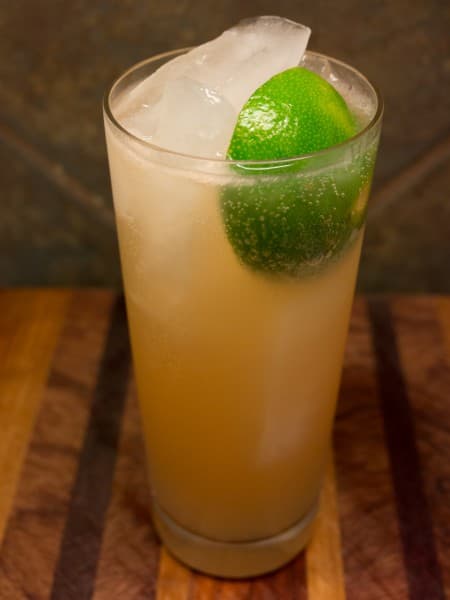 Wow, this is an improvement on the standard Rum or Orange Buck. Most New Orleans Buck recipes look like this one but don't use any bitters. So why not add some New Orleans bitters? Oh my. Peychaud's bitters and orange juice have an affinity for each other and it shows here.
The Playboy Bartender's Guide gave me this idea. This book is remarkable for all the little tweaks that are made to standard recipes - in a lot of cases this results in an improved drink and that is the case here.
The juices are refreshing and there is a certain body provided by the bitters that makes it even more so. And the best part is the slight bitterness on the end that keeps you coming back for another sip. I have ginger beer in the recipe because this Buck cries out for some extra ginger zip but ginger ale will work, too.
I feel like heading to Lafite's Blacksmith Shop on the quiet part of Bourbon street. I could sit in their naturally lit (candles only) bar and sip about 4 or 5 New Orleans Bucks (I might need to bring decent ginger ale though...). Or better yet day drinking at the Napoleon House with the shutters open watching the world go by. I need a vacation - but for now it's a vacation in a highball glass.
Rating (Liquor & Drink)
92
Flor de Cana Extra Dry 4 Year rum, lime juice, orange juice, Peychaud's bitters and homemade ginger beer. 7/15/2012
Ingredient Profile
Drinks in the same category
Drinks served in the same glass