Greyhound
Shake all ingredients briefly with ice cubes. Pour unstrained into the serving glass. Top with ice if necessary. Garnish with a lemon, lime or grapefruit slice if you desire.
Greyhound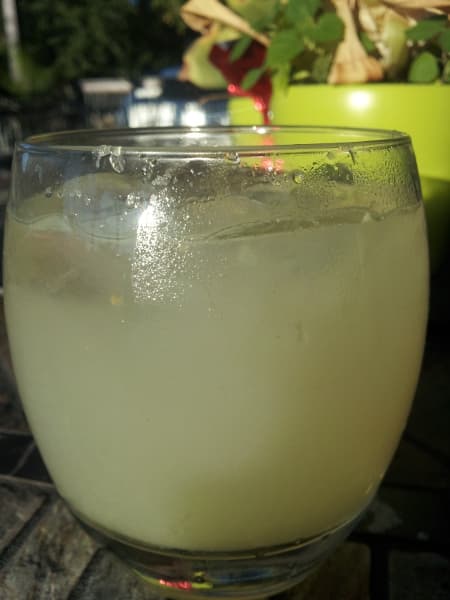 Often considered a morning or brunch drink, the Greyhound actually has a cocktail pedigree that dates back to Prohibition. We find in our well used volume of The Savoy Cocktail Book a certain Grapefruit Cocktail on page 78:
(for 6 people)
Juice of 1 1/2 Lemons
2 Small Spoonsful Grapefruit Jelly
4 Glasses Gin

Add ice and shake.
That looks like a tasty drink but grapefruit jelly is rather rare these days. You can probably find grapefruit preserves or marmalade if you want to try the recipe. A "glass" of gin is 2 ounces, so there is 8 ounces total in this recipe.
Below this recipe the Harry Craddock writes:
The following Cocktail, although apparently harmless, is sometimes liable to be snappy. It is a variation of the Grapefruit Cocktail:

Take three and a half glasses of Gin and the juice of 1 1/2 good-sized Grapefruit. Sugar to taste, plenty of ice. Shake and serve.
This, quite likely, is the origin of today's Greyhound. Note that Craddock's version is a cocktail in an up glass with no ice. This evolved into the iced version we see today. The gin was replaced by vodka (that seems to have happened to a lot of drinks...) and usually there is only juice and no sweetener present.
I have enjoyed many modern Greyhounds but this older version looks more interesting to me. Whether up or on the rocks, gin is far more interesting than vodka and perhaps a touch of sugar or Maraschino (as in the Hemingway Daiquiri) is in order, especially if your grapefruit juice is on the tart side.
Fresh squeezed grapefruit is preferable and use the white version over the red if you can - when you see a citrus press in a bar it's a great time to order the hound. If you can get grapefruit from the Indian River area of Florida on the east coast you will be in Greyhound heaven. I used to live in this place when I was a kid and though I wasn't tossing down highballs I did eat a ton of the local grapefruit and it's fantastic.
If you are using a bottled juice, something in the cold section like Simply Grapefruit is serviceable. Be careful with bottled juice as some have added sugar (they usually have the word "cocktail" on the end of their name). I have always found canned grapefruit juice to be quite tart and bitter but some drinkers like it that way.
During the Greyhound's evolution into a rocks drink, someone started salting the rim of the glass and gave us the Salty Dog. You can either salt the rim or throw a dash of salt in the drink. The earliest reference I could find for this variation is the 1950's but it probably appeared earlier because I found this variation from the 1940's:
Salty Chihuahua
1 oz Tequila
1/3 oz orange liqueur (optional)
3 oz grapefruit juice
Shake, pour unstrained in a salted rim glass.
The Salty Dog may have at one time eclipsed the popularity of the Greyhound as I only found a recipe for the former in the Playboy Bartender's Guide which is a very large book.
If you have a tweak you use for a Greyhound let your fellow readers know in the comments.
Ingredient Profile
Drinks in the same category
Drinks served in the same glass