Brinley Gold Vanilla Rum In The Caribbean
A family makes rum in sunny St. Kitt's
9/18/2008 12:00 AM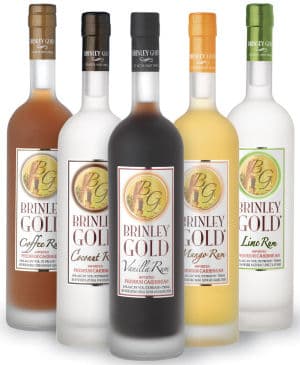 The Brinley line of rums.
On the remote island of St. Kitts in the Caribbean, I got a bit of a come-uppance. My taste in rum leans towards the aged, don't add sugar, coconut, pineapple, raspberry, spice (!), or anything else realm. While scanning the rum at the liquor store, I grimace and frown when I see fruits, rainbow colors, pirates, or all of the above on the label (though I do love reading about real pirates).
So my wife and I are just off the plane sitting at the bar at the beautiful and brand new (at the time) Marriott Frigate Bay Resort on St. Kitts. I order a CSR (Cane Spirit Rothschild--the local strong stuff) neat--the bartender gives me a double take--yeah, a clear cane spirit neat. I'm going to see what this stuff is all about even if it costs me a layer or two of my palate. My wife spies a 13 inch tall, frosted Italian made bottle that towers over the rest. It has a silver-edged, glossy white label and features a photo of an actual St. Kitts sugarcane mill in the circular, golden, BG logo. A Brinley Gold Vanilla rum is ordered by my wife.
That's not for me I think, but I taste it anyway. Wow, not bad. It passes the first test--it's not cloyingly sweet. And it passes the second test. It really does taste like the bean described on the label. Often, the taste of flavored rum is artificial to me, but Brinley is different.
I actually ordered a few glasses during the week I was there. We had a case shipped to us when we got home. Oh, and the cane spirit—I didn't order any more—unless it came with Ting, the local version of Fresca.
Where it all started
G. Robert, Maryann, and G. Zachary are the Brinleys who make and market Brinley Gold rum on St. Kitts. They partnered with Michel Joly, a Frenchman who used to make spirits for the late Baron Edmond de Rothschild, and started selling Brinley Gold rum in February of 2003. By September, they had entered the U.S. market. They are now in over ten states in the U.S. (see their website below) and growing.
As in any business startup, the Brinleys had their share of anxious moments.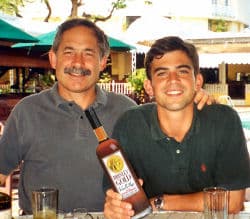 G. Robert and G. Zachary Brinley
showing off their rum.
Rationing rum
At the International Rum Festival in St. John's, Newfoundland, the rum they shipped for the show didn't show up. They were forced to ration the four bottles they had brought in their carry-on luggage for a three day rum show! There was a lot of sniffing and smelling of the rum, and not as much tasting due to the short supply. The Brinleys were frank when asked where the rum was--they just told the truth. And they were quite excited when their vanilla rum won a gold medal.
Welcome to the jungle
Another adventure occurred in the late summer of 2002, when the Brinleys traveled to Georgetown, Guyana for meetings with Demerara Distillers Ltd (DDL), the world-renowned alcohol producer. They were met by a security team which whisked them off along with a chase car. DDL had sent the security because fugitives had escaped from prison and were taking businessmen hostage. They persevered during three days of meetings, didn't see the fugitives, and escaped alive!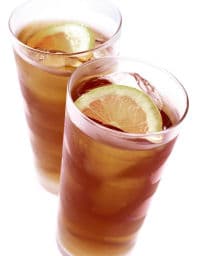 Brinley rum with lime.
The Brinley family strives to make rums that are natural and pure, with none of the cloying artificiality that you see in most mass market competitors. Their philosophy is similar to mine when I make a drink or a meal--use fresh, quality, unvarnished ingredients and don't overly process the rum which can cover up natural flavor and aromas.
And if you fly down to St. Kitt's on American Airlines, you can sample Brinley Gold rums before you even get there. American is now serving Brinley on flights to the Caribbean.
Last updated 9/18/2008 12:00 AM