Mojitos in Havana
How they really make them
3/29/2007 12:00 AM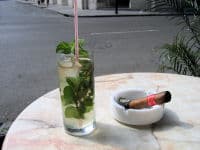 That Mojito will be gone very soon.
When my plane landed in Havana, it was about 4:30 on a Friday afternoon. I got through immigration and customs without a problem. The big hang up was baggage claim, which took forever. With my bags in hand, I met my ride and we headed for the Vedado district of Havana.
Once I was settled, I set out on foot towards the Malecon, which is the sea wall that borders the ocean on the north side of Havana. About ten blocks from my casa I found the hotel Havana Riviera. It wasn't very busy when I arrived...still early. I ordered my first authentic mojito, which would end up being remarkably similar to every other one I would have in Havana.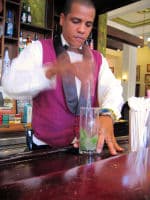 A well dressed bartender
mixes up another Mojito.
Down to business
From the hotel Havana Riviera, I walked one block to the hotel Cohiba and quickly located the small but quaint bar. I ordered another mojito, and this time I saw them make it.
She started with a Collins glass and then added mint and sugar. The sugar wasn't powdered or in granules. It looked like it was small flakes. She mulled this mixture for about ten seconds. Then she added lime juice, or at least a lime flavored liquid. After that it is ice and then club soda. Finally, she topped it off with a generous portion of Havana Club Anejo Blanco rum. After a quick stir with a spoon, she garnished with a fresh sprig of mint, added a straw, and served the drink.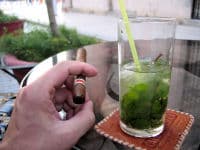 The cigar will last a lot longer than
the Mojito.
Over the course of the next two days, I drank many mojitos. They were always exactly as I described above. I think the only variation I saw was that a few places would add a dash of Angostura bitters at the end before stirring.
Although Havana is difficult for Americans to get to, I highly recommend a visit. The people are friendly, the cigars are excellent, and the mojitos are delicious.
Last updated 12/6/2007 8:45 PM